The October 2016 meeting of the UVNA saw a presentation by Harlan Powell representing the Red Apple convenience store located at 2000 W. Chicago Avenue.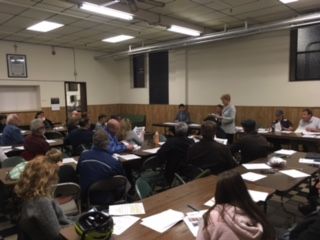 The store has been closed for a few years, and residents came out to see what kind of concept would be proposed for it to reopen. The store is still being rented by Irar "Ira" Sweiss who is again applying for a packaged goods liquor license. Unlike the previous store concept of late night hours and drive-up service, this plan would cater to local crowds interested in coffee, tea, sandwiches and upper-scale liquor (wine, craft beer and assorted spirits). The hours would be open until midnight, provide a security guard and have surveillance cameras connected to CPD facilities for live feeds of the intersection. These details were summarized for the attendees from a previous meeting with Alderman Hopkins who was presented with a plan of operation which would be added to the liquor license should it be approved.
Residents from East Village and Chicago Grand Neighbors joined UVNA members for this presentation, but immediately cited past issues with the Red Apple owner. Previous years saw testimony in court against the owner and his need for a liquor license at the location. Opposition included a letter from the then 13th District Police Commander citing safety concerns. Despite some of the changes being made to the new proposal, neighbors seemed to agree that there was an ongoing lack of trust. This store has been closed for years, and the point was made multiple times that that did not build any sense of community investment from the owner over the past few years. The location was referred to as dirty, mes, and in disrepair.
Alderman Hopkins listened to the discussion, which included a presentation by neighbor Suzi Wahl and local business manager Omar Quadri. Alderman Hopkins stated that he was aware of the past problems with the location, but as a new Alderman wanted to hear what neighbors thought of the upscale concept for that corner. The owner has not yet filed for a packaged goods license according to Harlan Powell, and the meeting ended with no outcome being determined. No vote was taken, the majority who attended seemed against the concept all together. The request was made that the owner should make an effort to run a store with liquor sales first to contribute to the community instead of paying to keep the store closed on a busy corner of the neighborhood.
More on this story can be found on DNA Info.
https://www.dnainfo.com/chicago/20161021/ukrainian-village/red-apple-chicago-dame-liquor-license
Past articles can be found at Our Urban Times.
http://oururbantimes.com/business-news/red-apples-liquor-license-appeal-denied-ukrainian-village-residents-relieved